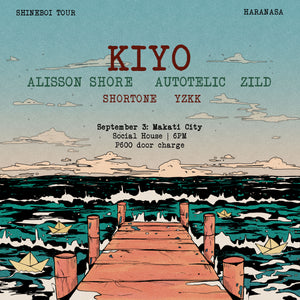 HARANASA: SHINEBOI TOUR
Social House | September 3 [SATURDAY]
6PM | P600 per ticket
1. Send the proof of payment to kiyoshineboi@jessandpats.com with the subject: SHINEBOI-MAKATI, *FULL NAME + ORDER NUMBER. No proof of payment sent via email, no reservation.
2. Slots are first pay, first served. Your slot is reserved once you have received a confirmation email from kiyoshineboi@jessandpats.com. Order confirmation does not mean confirmed reservation.
3. Expect a confirmation email within 24-48 hours. Please do not double send your proof of payment to avoid ticket cancellation.
4. We will not entertain proof of payments sent via Facebook or Instagram.
5. The physical ticket shall be claimed on the day of the event.
6. Ticket purchase is non-refundable.